Finding the perfect gift for everyone on your list can be one of the most stressful parts of the holiday season. If you're lucky though, you're already one of the millions of Americans who are a proud hot tub owner, and you can simply soak your stress away.
If you're even luckier, one or more of your gift recipients are hot tub owners too, which will make shopping for them a total breeze with our ultimate 2020 holiday gift guide. Here are our top picks for all sorts of popular accessories, ranging from practical maintenance and accessibility products to the more elaborate cover lifts and spa enclosures any seasoned hot tub enthusiast shouldn't have to live without.
For this category, we wrestled with including everything from extra filters to an assortment of hot tub chemicals, but we ultimately decided that neither of those would make for the most exciting gift to open up on Christmas morning. Instead, we landed on a product that we've fallen in love with recently during our routine maintenance sessions: The Filter Flosser!
This ingeniously designed filter cleaning tool provides a powerful and evenly dispersed spray that gets in between each pleat on your cartridge filter. Much like a dental water pick, it generates both water and air agitation which effortlessly strips out even the hardest to reach dirt deposits, saving you a ton of time and energy!
Whether your gift recipient likes to throw elaborate hot tub parties (something we hope can be a thing again soon) or has young children who need a little extra stimulation in the form of water-friendly toys and games, there are plenty of clever ways to add endless entertainment to any hot tub.
In last year's 2019 hot tub winter gift guide, we suggested a great set of outdoor, weather-resistant speakers to add incredible ambiance and relaxation to your hot tub setup. This year, we decided to go with something a bit simpler: A waterproof case for their portable tablet.
While there are plenty of different styles to choose from for whatever type of tablet they may own, we really like the versatility, ease of use, and low price point of this particular model. Now they'll be able to binge their favorite Netflix shows or watch useful hot tub how-to videos without having to worry about dropping their device.
Accessibility: Cal Spas Steps | $99.99 – $169.99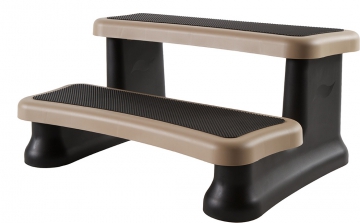 Last year, we recommended both our towel holder and spa caddy for ultimate spa-side convenience. This year, our suggestion falls more into the practical camp, as you simply cannot climb into your hot tub without a good set of spa steps.
Unless it's a brand-new hot tub, most owners already have a way to get into their spa. Unfortunately, though, a lot of people try to save a few bucks by using a cheap department store step stool or (and we swear we've seen it) a pile of cinder blocks.
Don't let them suffer any longer with something rough on the feet and simply unsafe to use. Our spa steps are slip-resistant, rated up to 700 pounds, and even have a SmartStorage add-on for convenient outdoor storage.
While a regular warm-water soak in a hot tub is one of the best ways for someone to improve their mental wellbeing, adding a soothing aroma to the experience is a great way to take their relaxation to the next level. That's why this inSPArational Spa and Bath Aromatherapy Sample Gift Bag makes for such a perfect present.
We chose this particular set because it's water-soluble, contains no oils (and thus no oily residue when you're done), and doesn't foam or bubble. That said, each pack still provides an impressive amount of fragrance in a fun assortment of scents that anyone can enjoy.
PLEASE NOTE: Many bath bombs and other aromatherapy products are not designed for use in a hot tub. Make sure you only use products that specifically mention they're safe for all acrylics, jets, pumps, and filters and won't change the water chemistry in any way.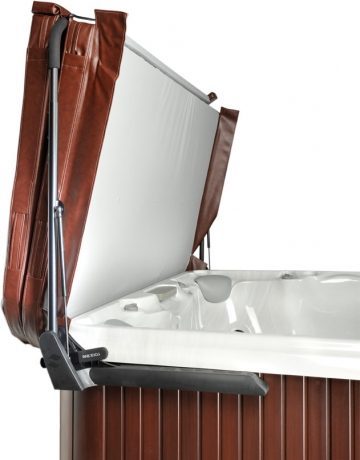 If the hot tub owners in your life are still struggling to manually remove their covers every time they want a quick soak, then they're in for a real treat! While we have lots of great cover options to choose from, only the CoverMate III offers the beauty, reliability, and superior hydraulic operation they dream of.
If that one's not your speed (or outside your price range), we do have several manual and easy-to-use models to check out. If you're not sure which one to pick, we recently put out this helpful hot tub cover lift flowchart which should help you choose the perfect one for the lucky gift recipient in your life.
In last year's guide, we leaned heavily into hot tub gear that would help brave even the coldest of Minnesota winters, such as a warm winter hat and ultra-plush robes. Unlike last year, however, we've had quite the unique and challenging set of months and had to add one extra item to our list of essential accessories: The all-important face mask!
While (we hope) everyone on your list already has at least one mask, these fun holiday-themed masks will make for a great stocking stuffer! Of course, they can be used anytime and anywhere, but we decided to include them on this list because they'll be especially fun to sport if your recipients decide to have a couple of guests over for a little fresh air get-together in their hot tub.
In case you were curious, the CDC has put out a statement that they are "not aware of any scientific reports of the virus that causes COVID-19 spreading to people through the water in pools, hot tubs, or water playgrounds." So, as long as you follow the rest of their guidelines, you should be okay to have a select few friends and family join you in your hot tub from time to time.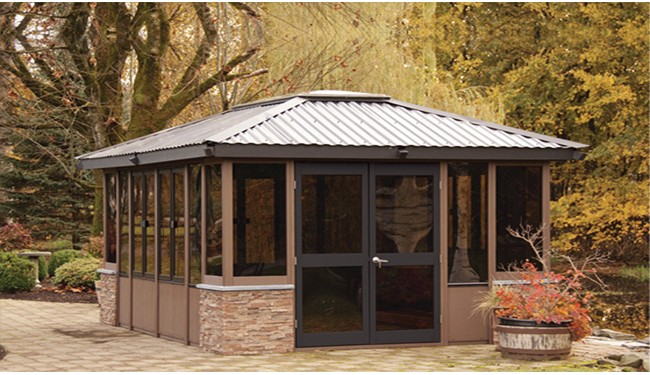 While a cover lift makes for a fantastic choice, if you really want to go all-out with an absolute showstopper of a gift this holiday season, look no further than a stylish outdoor spa enclosure. Providing unsurpassed privacy, excellent ambiance, and complete protection from all-season weather, a spa enclosure is a must-have for any die-hard hot tub owner.
At Cal Spas of Minnesota, we offer a wide selection of open-air and fully enclosed gazebos to choose from, and we also put out a handy spa enclosure flowchart for these as well if you need it.
Last year, we recommended the one-of-a-kind Covana Gazebo, which is a hybrid cover/enclosure combo that offers the best of both worlds in terms of luxury, safety, and convenience. This year, we chose The Whistler, a much more traditional, 11' x 14' offering from our Resort Series collection.
It comes fully enclosed with a polyethylene roof, plexiglass windows, and full-sized French doors. Add in some optional bay windows, benches, and a bar kit and your gift will be remembered for decades to come!
No hot tub owners in your life? It's not too late to change that!
If you've made it this far into the guide and you still can't think of anyone on your holiday list that has a spa, what are you waiting for?! Or perhaps you're sick of getting everyone else such amazing spa gifts and want to get in on the fun and relaxation yourself. Whatever the reason, we're here to help!
Cal Spas of Minnesota has the best selection of hot tubs and swim spas in the Twin Cities and is currently offering some unbelievable year-end clearance deals. Give us a call or stop by one of our two convenient locations and we'll work with you to make sure you have it in time to put it under somewhere near the tree this year.