How do you know whether an indoor or outdoor hot tub is right for you? Unless you already have the perfect spot picked out, you've probably imagined your future spa in a bunch of different places—both indoor and outdoor—all around your property.
While we can't make the decision for you, we can help you come to the best conclusion for your particular needs, space requirements, and budget. Read on for our pros and cons for each, as well as a surprise option that may not have crossed your mind.
Pros and cons of owning an indoor hot tub
While they can certainly be worth the trouble, choosing to install an indoor hot tub is not a decision to be taken lightly. You will need to invest a sizable amount of time, money, and hard work to get it done right.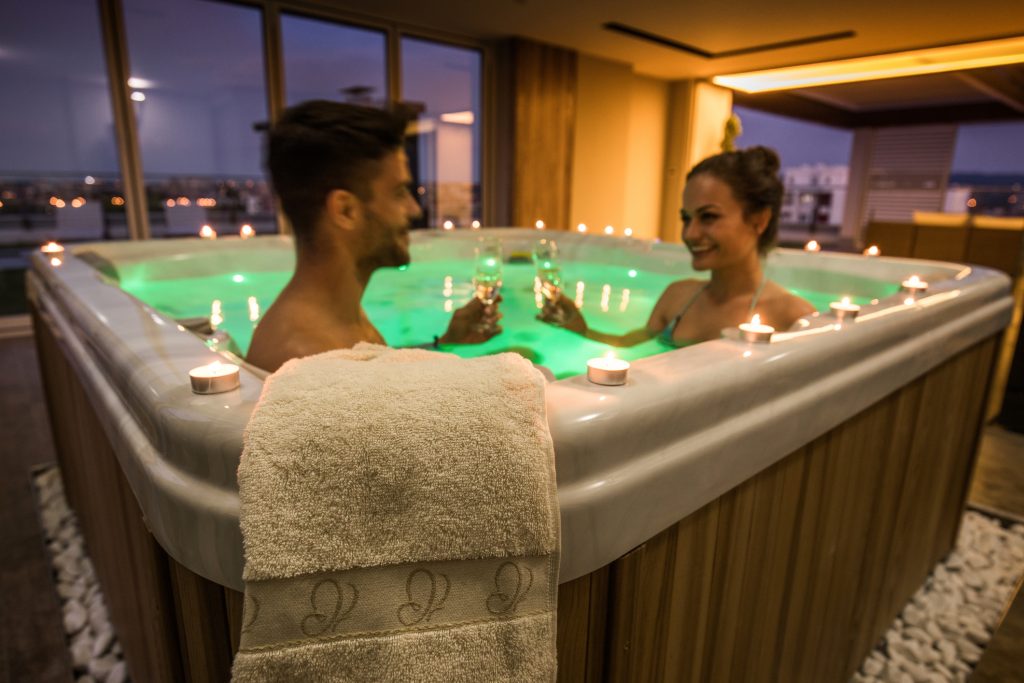 Pros:
More privacy:

 

Unless your room of choice contains wall-to-wall windows, there is no more private of an experience than being inside one's own home.
Climate control:

 

Whether it's shining, blowing, raining, or snowing outside your doors, it doesn't matter one bit with an indoor spa. You can control the temperature to your liking while avoiding such annoyances as bugs, allergens, and sunburns.
Convenient access:

 

You'll be able to go straight from the bedroom to the hot tub without the need for a robe or a pair of sandals. Plus, you'll have easier access to entertainment options, more refreshments, and a bathroom.
Cons:
Requires a lot of space:

 

Not only will you need a spacious room to house your hot tub, but you'll also need a large enough path to get it there. Most spas are larger than your average doorway and impossible to get around tight corners (not to mention down the stairs). So, unless you're willing to remove a wall of your home, you may want to rethink this option.
Expensive and difficult installation:

 

Long before you purchase your hot tub, you will need to pour lots of time and money into getting your room of choice ready. This will likely include many of the following:

Floor reinforcement:

 

When filled with water, your hot tub can easily weigh over 5,000 pounds. Unless you plan to install it on a concrete slab in the basement, you will need to consult a structural engineer to ensure that your location can safely support that kind of weight.
New plumbing:

 

If your room doesn't already have access to running water, you'll need to add that to the list if you want to actually be able to fill your tub. Installing floor drains is also a must to collect all the inevitable drips and displaced water that can spell trouble for your floors.
Ventilation:

 

When water heats up to a certain point it evaporates, increasing the humidity in the surrounding air. Without adequate ventilation in place, that humidity can cause irreparable damage to your walls, ceiling, and furnishings while also providing an ideal environment for the growth of bacteria and mold.
New electrical wiring:

 

Hot tubs require a lot of electricity to operate, and not all are compatible with a standard 120V outlet. You will likely need to hire an electrician to come out to wire your hot tub directly to a power source and make sure it's properly set up to avoid any hazardous moisture-related short circuits.
Water-resistant building materials:

 

Similar to a bathroom, you will need to invest in more costly materials for everything from the walls and ceiling to the floor and furnishings. That is, if you don't want to have to replace everything after a few years of damaging humidity, condensation, and excess water.

Unwanted noise and odor:

 

If you're like us, you'll find it significantly harder to relax with the constant thrum of ventilation systems and water pumps. You're also unlikely to enjoy the smell of chlorine that will permeate the entirety of your home for hours.
Higher likelihood of damage:

 

Even if you install everything we mentioned above correctly, having an indoor hot tub still brings with it a much higher chance of something going wrong. And when it does, the cost to fix the issue is usually far greater.
Pros and cons of owning an outdoor hot tub
Installing a hot tub outside of your home is a decision that comes with plenty of pros and only a few small cons that can all be easily overcome. Here's what you need to know.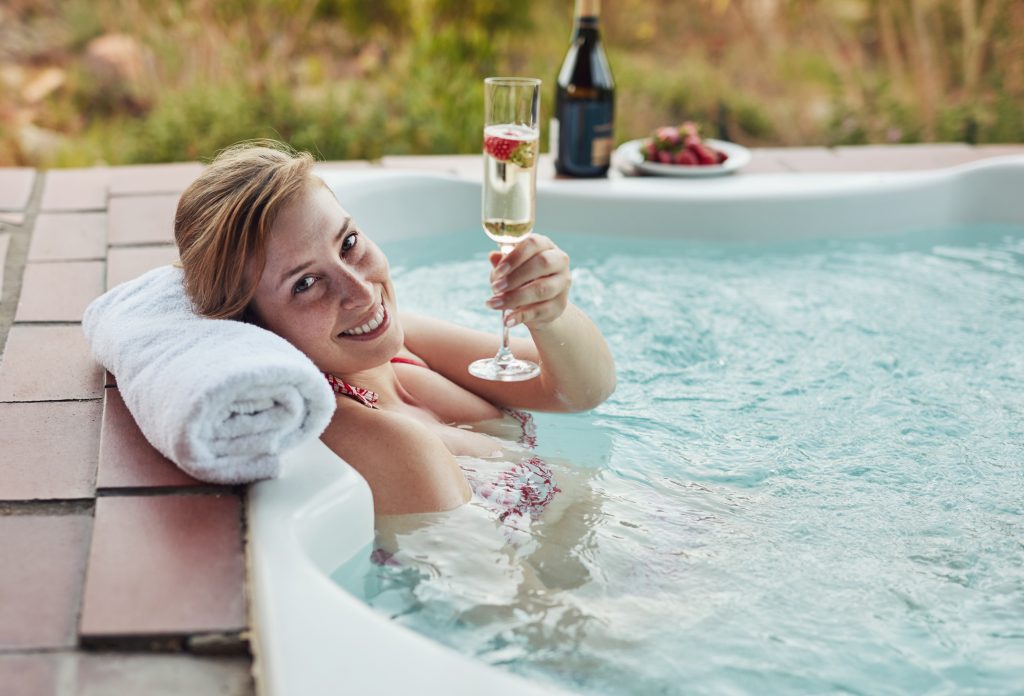 Pros:
More affordable:

 

When you buy a hot tub, your biggest expenditure should be the hot tub itself, not the installation or the room it's housed in. When you choose to place yours outside, you're avoiding these costly add-ons and saving a ton of money.
Much easier installation:

 

Even if you have to remove a small section of fencing to get it in your yard, that's a much better alternative to knocking down a wall. Plus, installing a sturdy base and getting everything set up for use will be a relative breeze by comparison, meaning you'll get to enjoy your new hot tub sooner.
Natural drainage and ventilation:

 

One of the best things about installing a hot tub outside is that nature will take care of a lot of the little details for you. A light breeze will waft away any humidity, and you're always a hose-length away from a great drainage location.
Can be more relaxing:

 

Fresh air, birds chirping, the warmth of the sun on your face, the smell of fresh cut grass, and the view of your beautiful backyard paradise from your

 

Cal Spas hot tub. Is there anything truly more relaxing than that?
Cons:
Less privacy:

 

Depending on the setup of your yard, you may be more exposed to prying eyes from the neighbors while you soak. Thankfully, there are plenty of

 

simple things you can install

 

to prevent this, such as a fence, privacy screen, or a row of tight-knit trees.
Exposure to the elements:

 

While hot tubs can be enjoyed in

 

almost any weather

 

and climate, you yourself might not be quite as hardy. If tiptoeing across a snowy deck in the middle of a Minnesota January is too much for you to handle, then perhaps an outdoor spa is not for you.
Not quite as convenient:

 

Sure, you'll have to travel a tad further to refill your beverage or use the restroom, but a little exercise never hurt anyone. In fact, soaking in a hot tub is the

 

perfect post-workout activity!
Why not get the best of both worlds?
If you want the ease and affordability of an outdoor hot tub, but really like the privacy and protection from the elements that an indoor spa offers, then extend the comfort of your home into your backyard with a Cal Spas gazebo!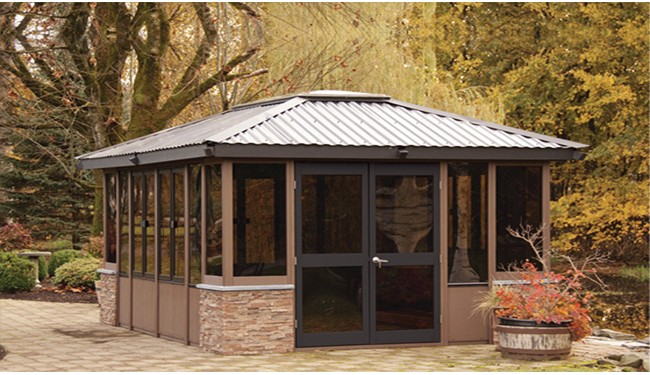 We have a huge selection of open air and fully enclosed gazebos that are beautiful, durable, and guaranteed to maximize your hot tub experience. Shop our collection today.