Soaking your body in the warm, soothing waters of your hot tub is a near perfect experience. The only thing that can make it better is doing so while listening to a collection of your favorite songs. No doubt you already know what you like, but those songs you love to listen to while doing chores or on a road trip might not be ideal for your time in the spa.
It doesn't matter if you're into classic rock, country, or hypnagogic pop, with enough trial and error, anyone can come up with the perfect hot tub playlist. Here are some tips to get you started.
Connect your speaker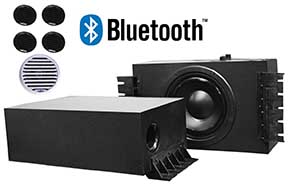 Before you begin, you'll first have to make sure that your speakers are set up and ready to go. Whether you plan to use your phone, a mini speaker, or an expensive outdoor stereo system (with plenty of bass), you'll need to test out your sound quality and make sure it's a safe distance away from any inadvertent splashes.
Of course, the best (and most convenient) way to experience music in your hot tub is with the built-in Freedom Sound System from CalSpas. Many of our hot tubs and swim spas come equipped with a powerful subwoofer and cube speakers which are Bluetooth-enabled, allowing you to control your music from your smart device of choice.
Contact a Cal Spas representative today to learn more.
Pick a streaming service
There are tons of great music streaming services out there, so this part will definitely come down to personal preference. Some of the more popular options available are Spotify, Apple Music, Pandora, and Soundcloud. Most of them off a free version to get started with and a paid subscription option if you can't stand the ads.
Of course, if you already own copies of all your favorite songs, you could go the old-school route and make yourself a hot tub mix tape.
Choose the right music for the mood
There is no such thing as a "one size fits all" playlist when it comes to your hot tub time. Depending on your activity, your mood, and your audience, your music selection can vary greatly from day to day. While not an exhaustive list by any means, here are some suggestions to get you started during your next soak.
1.  Maximum relaxation station
Long day? Can't sleep? Just need a little "you time"? Whatever the reason, hot tubs are a fantastic way to de-stress and improve your mental wellbeing. Of course, it'll work that much better with the right selection of calm, soothing melodies on the airwaves.
Here are some of our tried and true relaxation playlists:
2.  Tub thumping party mix
Whether you're hosting a few close friends or the entire neighborhood, no backyard party is complete without a hot tub and a killer playlist. Just make sure to take into consideration the genres your guests will like or ask them what their favorite songs are ahead of time and add them to your playlist.
Here are a few of our backyard party favorites:
3.  Family splash and sing favorites
Buying a hot tub is one the most exciting purchases a parent can make, bringing instant joy and anticipation to adults and children alike. Pairing your family hot tub time with the perfect sing-along songs is simply icing on the cake.
Here are some kid-tested, hot tub-approved classics:
4.  Date night romantic vibes
Music is a must for any romantic hot tub date night. Whether you choose a premade romantic playlist or curate your own, there is certainly no shortage of love songs to get your partner in the mood.
Here are a few of our date night go-tos:
5.  Underwater workout beats
Your hot tub can be used for more than just entertainment and relaxation. With a few simple water-based stretches and exercises, you can increase your flexibility, strength, and weight loss. Of course, no workout is complete without the right playlist to get your body moving and your blood pumping.
Here are a few of our high-energy workout favorites:
Press play and enjoy
Obviously, everybody's musical tastes are different, so you're going to want to tweak your playlists to fit your interests. When you do finally get yours perfected, hop into your hot tub, press play, and enjoy the full experience.
Don't have a hot tub yet?
It's not too late to change that! Now is a great time to buy as we have over 300 spas and swim spas at deeply discounted "state fair" prices. Shop today at one of our convenient Twin Cities locations.