CAL SPAS AT THE GREAT MINNESOTA GET-TOGETHER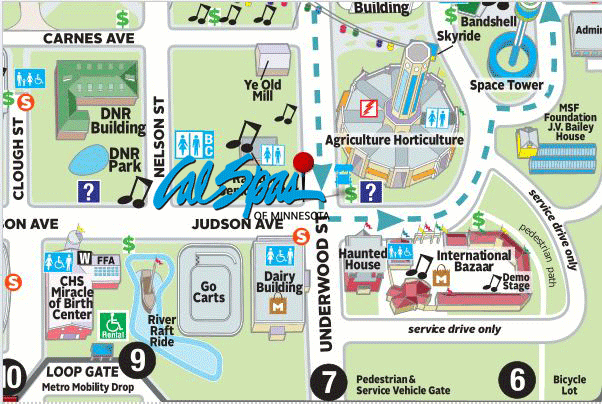 Find us, stop by, and say hi! 
Our location couldn't be more perfect. We're 1 block inside the Como Avenue entrance on the corner of Judson and Underwood,  directly across the street from the Dairy Building and kitty corner from the Haunted House.  See the map for more information.  Check out some spa models or just dish about your favorite fair food! 
Visit Cal Spas at the State Fair for Unbeatable Hot Tub Prices!
Got a Trade-In? Get $1500 Toward a New Cal Spa!* Site Unseen – Working or Not – ANY Condition.
Not Quite Ready? No Big Deal! Ask About Our 1 Year State Fair Price Freeze.
If You Want a State Fair Deal on a New Spa – Now's the Time!
Ramberg Music Cafe 
Since 2011, Cal Spas has been the proud sponser of the Ramberg Music Cafe (formerly Ramberg Center). It's the best spot at the fair for RR&R; rejuvenate, relax, and recharge! A wonderful variety of singer-songwriters and muscial talents play all the best genre sounds, including jazz, soul and blues, to polka, pop and more. Find a lovely lineup of entertainment, rocking chairs, phone charging, free water and more. Take a break from the action!